Alan Francis & Amy Francis
Pitching Horseshoes in Huntington, Indiana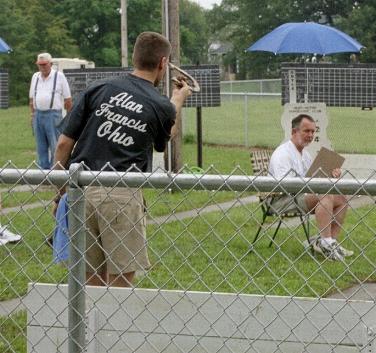 Alan Francis addressing the stake with his 3/4 reverse turn.
The 3/4 reverse turn was the turn that made Curt Day 3 times World Champion and 5 times 2nd place runner-up.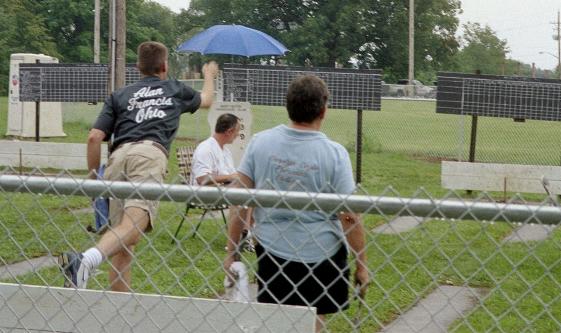 Alan Francis delivering his horseshoe with his full extended follow-through.
In 2005, in Bakersfield, Alan Francis won his 11th World mens title, breaking Ted Allen's previous record of 10 titles.



Mark Seibold watching on as Amy Francis executes her forward delivery of the horseshoe.
I believe Amy is a 10 times Ohio State Champion.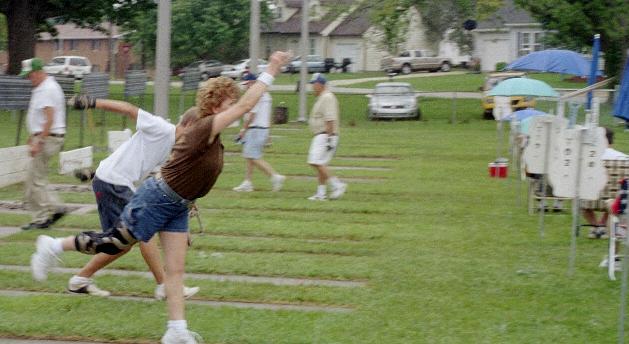 Amy Francis with her extended follow-through after the release of the horseshoe.
In 2002, at the Ohio State Championship, Amy won the womens title with an 86.86% tournament average.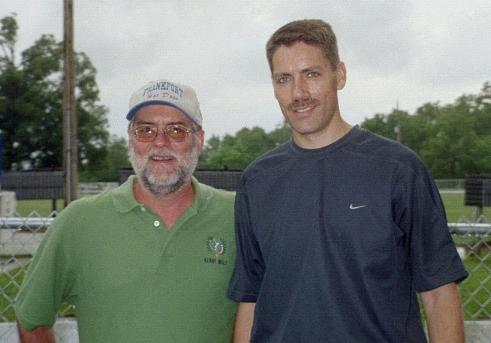 Kenny Wolf (web site editor) with Alan Francis (16 times World Champion, as of 2010)
at the Seibold Special in Huntington, Indiana - August 14, 2005
Unfortunately, the Class A Tournament was rained out after only two or three games, but not before I, for the first time in my life, got to see Alan and his wife Amy Francis pitch. Amy took this picture (nice shot Amy); and Alan's God given abilities in pitching horseshoes are only topped by his warm personality. The rain delays gave me the opportunity to meet Alan and talk to him about Curt Day, Frankfort, Indiana and Defiance, Ohio. I believe Alan told me he first met Curt in 1982, as a 12 year old, when his father introduced him to Curt Day in the Huntsville, Alabama World Tournament (Curt could no longer pitch competition after 1977 or so). It was a real pleasure for me to meet this young man and I look forward to seeing him break many more records in the sport of horseshoe pitching. It is always nice to have a champion who knows how to handle success with the humility, enthusiasm and warmth that Alan radiates. I only talked to Alan for 15 minutes or so, but he makes a new acquaintance feel like you've known him all your life.
Email the website editor Kenny Wolf


Email address must be typed in to email me.
This email address is a jpeg image to avoid Internet spam email search programs.