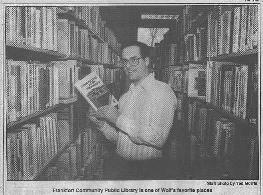 Clinton Countian Article published in the Times on February 29, 1992
Wolf hungers for wisdom
By Lynne Thompson
(Times staff writer)
Wisdom. Truth. Freedom of speech.
Kenny Wolf has a lot on his mind, and isn't afraid to say it.
Faithful Times readers recognize Wolf's name as one who, until late last year, was a regular contributor of Letters to the Editor. His opinions on issues such as theology, politics, and philosophy appeared along side complaints about trash pickup, jail location and skateboarding.
Wolf announced in a December letter it would be his last. He had hoped others would respond to his comments, that citizens would participate in what he calls "some good old-fashioned open forum discussion on issues, the real issues.
"The people I have (spoken) to who have interesting thoughts, and yet they won't come forward with them...It's almost like I'm protesting.
"I feel like, right now, I've really had my space. I feel like I could jump in with everyone else once in a while, but I would have to see (more participation from others...)."
Wolf wonders why people take freedom of speech so lightly, or won't speak out.
"I don't know if it's a fear of (risking) their jobs, facing their friends...I don't know what it is that stops them. I've addressed that...people in the Soviet Union wouldn't understand why we don't use that freedom of speech over here. They would be covering (the editorial page) with thoughts and opinions..."
Wolf has never claimed to know it all. In fact, he admits to just the opposite.
"I earned a two-year associate degree at Ivy Tech in Kokomo. I didn't think I had the drive to go to a four-year college...the money...and the intellect to do it.
"The challenging thing to me was can a person who feels ignorant still find out what's going on? Can they still get to the truth? That's when I started to see the difference between intellect, knowledge and wisdom.
"Wisdom is not necessarily knowing the answers, but knowing who does...knowing where to get the answers."
That's what he's been doing--seeking out those with the answers. A rich source has been quotation books, words of great historical thinkers.
He's been a good student. His conversation is seasoned liberally with quotes, sprinkled here and there to emphasize a point he is making. But his thoughts are his own, based on the wisdom he's gleaned from others.
"I found early on I could pick up something from this person or...that person... You can learn from revelation. You're accepting what you've read, but you also have empiricism and reason to think it out.
He continues to learn and share his findings with others.
"Life is about learning and teaching. Everyone should be engaged in both... We need more open discussion, those issues of opinion. That's what's going to bring us back again."
Despite his interest in politics, he has no ambition to run for office. "This was a word I looked up and thought about quite some time, because I lack ambition. (The word) in my dictionary is (defined as) 'an earnest desire for some achievement of power, fame, wealth, etc.' I wish they'd have gone on, because that doesn't satisfy me.
"My only ambition has been for wisdom, and that is to just find out what is going on.
"The sad part of what I see is people substituting prejudice or bias for wisdom, which is just an opinion formed beforehand, without full knowledge to hold that position. That's the hardest thing to do, to discuss something with someone who holds a strong prejudice. We have a pride we never want to admit we don't know the answer to something."
When Wolf isn't working as office manager at the company he works for or perusing books, he likes to spend time with his wife, Denise, and his three children. He especially likes high school basketball.
But his passion for wisdom lies close to the surface, waiting for some new tidbit to add to his own thoughts for rumination. "I'm interested in everything. I can pick up things from anybody. I listen to everybody.
"I'm just open ears. The radar's on."
--The Times Weekend Edition, Saturday, February 29, 1992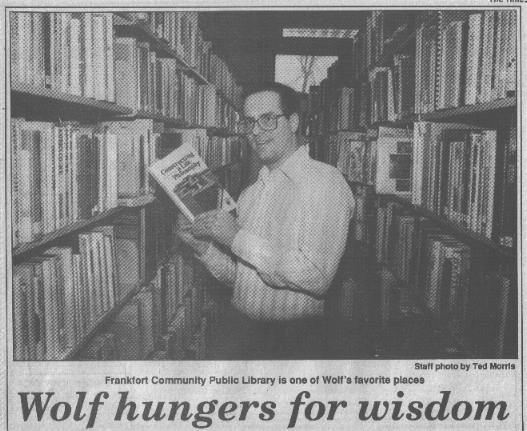 Staff photo by Ted Morris