By Glen Portt; contributing writer for the NHPA Newsline publication
(published in the 1st issue of NHPA Newsline, January/February 1989)
Permission to reproduce article granted by the editors of Newsline
subscription information for Newsline available at the NHPA web site:
www.horseshoepitching.com
.
Picture of Curt Day (below) was not with original Newsline article

I have always realized that Curt Day was a great horseshoe pitcher. I also realized that I really didn't know too much about him…so I decided to find out. In almost any gathering of the addicted, where our really great ones –our legends – are discussed, you will hear the names of Ted Allen, Elmer Hohl, Fernando Isais, and Carl Steinfeldt bandied about. But seldom, if ever, do you hear the name of Curt Day. I wondered why.
After looking at a few statistics, I decided that if a completely unbiased statistician would analyze the records, a case could be made that maybe Curt Day was the best of them all. I can hear you say, "No way. Certainly you are not saying that Day ranks on par with Hohl, Allen, Isais, and Steinfeldt?"
"That's exactly what I'm saying."
"How can you possibly say that?"
"Because the records relfect it. Let's take a look. All four players pitched more W.T. games than Curt's 574, but Curt had the second highest winning percentage of all time – 86.23%. Isais's 88.11 was first, Hohl's 84.33 third, Allen's 77.95 fourth, and Steinfeldt's 77.74 fifth."
"Okay, that's a good point. What else?"
Well, if I asked you which of the five had the best ringer percentage for the 100's of W.T. games each played, whom would you pick?"
"Elmer Hohl."
"It's possible you may be right. It is so close that a complete search of the records would have to be made in order to say absolutely that it was not Elmer. But the records stand today, Elmer was second with 82.28% vs. Curt's 82.48%."
"Okay. Another point. But does that make him greater than Elmer?"
"Definitely not. Both men had enough times at bat so that a comparison can be made. However, Elmer pitched 205 more games, so his 82.28% for 779 games is a record. Curt's 82.48% for 574 games is also a record."
"How about World Tournament titles? I don't remember Curt winning too many."
"We all know that Allen, with 10, is the leader and that record will not be broken for a few years. Isais, with 8, and Hohl, with 6, are next. Then Curt, with 3. (Records before 1933 and after 1977 are not considered.) In those 3 W.T.'s he averaged 86.2, 84.9 and 81.8. He won 93 out of 98 games for a winning percentage of 94.89. I believe these figures put him right up there with the best. What do you think?"
"I agree. Anything else?"
"Yes. After realizing that Curt had not received the credit due him over the years as one of our greatest, I wanted to find out more. So I interviewed him, asked him a lot of questions, and recorded the answers."
"What kind of questions?" "Here are a few…
GLEN PORTT: "Curt, you threw a ¾ reverse. Did you ever throw any other turn?"
"No man has ever won a W.T. with a regular ¾ turn. Theory is that too many ringers are lost with this type of turn. You apparently did not lose too many with your reverse ¾. Why would a reverse turn stay on better than a regular ¾ turn?"
CURT DAY: "I threw a hard shoe but it landed soft. I practiced throwing so it would hook the stake and I pitched from the right side. I seemed to have better alignment from the crossfire position. When I pitched from the left side, the shoe went on more perfectly, but I would lose more ringers."
GLEN PORTT: "In 1984, Sports Illustrated started an article on horseshoes with a two-page spread which showed a big red barn, and you, wearing bib overalls, posing in knee-high grass. The author started the article with 'by and large the game of horseshoes remains what it was. The stakes are out there behind the barn…' This drew a lot of criticism and many thought it set horseshoes back 20 years because it gave to a million readers a very false picture of what the sport is today. Did you ever wear overalls like that when you pitched in a tournament? Were you paid for posing as the producer wanted?"
CURT DAY: I received no pay. I have pitched in overalls, but never in a tournament. It happened like this. I received a call from Donnie stating a 'Jackie' was flying in to take some pictures. Jackie did take a lot of pictures. I didn't know which ones would be used. I should have asked for more information.
GLEN PORTT: "Curt, in reviewing your record, I have to say you were one of the greatest of all time, especially during 17 W.T. years from 1959 through 1976, when you averaged over 80%. I note you didn't pitch in '68, '70 or '73. The last two were in California. Was it a lack of money?"
CURT DAY: "Yes. I felt the expense was too great."
GLEN PORTT: "If I were to list the all-time top pitchers in the world, I would list Allen and Hohl as tied, Isais next, then you, and then Steinfeldt. What would your list be—not including yourself?"
CURT DAY: Ted, Elmer, and Fernando were the greatest and I would rate them all even. However, if I had to pick one, I would give the nod to Elmer. I believe he had tougher competition to pitch against. Also, I pitched more games with Elmer and I know just how great he was."
GLEN PORTT: "Who was your most dreaded opponent?"
CURT DAY: "After I started averaging 80%, I didn't have any opponents I really dreaded. Of course, there were some who would always seem to give me trouble. Floyd Toole was one. He always gave me a good game—too good most of the time. Wilbur Kabel was another tough competitor—usually very relaxed. It's true that if there are 32 pitchers in the Championship Class, any one can beat you on a given day."
GLEN PORTT: "Did you ever get butterflies before starting a tournament?"
CURT DAY: "Yes. Many times. I just tried to relax and concentrate on pitching ringers, hoping the butterflies would go away. I believe it helps to be a little nervous when you start your tough games—keeps you from being overconfident."
GLEN PORTT: "Do you remember any particular game which stands out above all others?"
CURT DAY: "Do I? You bet. The 174-shoe game I had with Ted Allen in '57! I was pitching over my head. Both of us had 155 ringers for 89.08%. Late in the game, I had Ted 49-41. Then I pitched two perfect shoes, one on each side of the stake. Ted threw two. Score: 49-47. Six shoes later, I missed. Ted didn't. Score: 49-50. Out of 348 shoes pitched, only three single points were scored. This was 'The World's Greatest Horseshoe Game' at that time. There were seven new records established: 4 dead, 55 times; longest game: 174 shoes each; most ringers per pitch: 155; most combined ringers: 310; most doubles per pitcher: 69; most combined doubles: 138; and highest combined ringer average: 89%."
GLEN PORTT: "You can be proud of that one, Curt. However, in digging through the Digests, I came up with a few other items worth mentioning. You won the Indiana State Championship 18 times, 14 of them in a row. In the '69 event, you threw 547 ringers out of 616 shoes for 88.75%; in '63 you won the Western Open with 84.4% in '62, the Northern Indiana Open with 88.1%; and in the '65 W.T., you went 180 shoes with Harold Reno, winning 51-48 with 88.1. In '67, in the Midwest Ringer Roundup, you ended a game against Paul Focht with 56 consecutive ringers—giving you 98 ringers out of 104 shoes for a 94.2%. You then started your next game with 18 straight, a run of 74 consecutive ringers! These are pretty nice figures."
CURT DAY: "Well, I guess they're nothing to be ashamed of."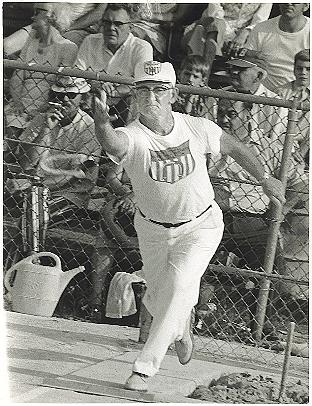 GLEN PORTT: "Curt, what brand horseshoes did you throw?"
CURT DAY: "Guess I've tried them all but in 1963 I switched to Allen's and I've never looked back. Won three World Titles with them."
GLEN PORTT: "I understand there was something special about the 1966 W.T. What was it?"
CURT DAY: In the first place, I was worried—not about the competition I'd be facing, but about my son, James, who was in Vietnam. The tournament was down to the last nine games. I looked up, and there sat Jimmy. No one will ever know the feelings I went through at that moment. It was as if a big cloud had lifted. The adrenaline started flowing and I felt I could beat anyone. I could—and I did—for my first World Championship." (Records show that on this night, Curt Day pitched three consecutive 90-plus percent games, the second man in history to do so.)
GLEN PORTT: I haven't asked you about your personal life but I do know you are now 71 years old, have 4 sons and 2 daughters still living, have 13 grandchildren, that you grew up playing basketball, softball, and were a good bowler. You served your country in WWII in the European Theater as a member of the 14th Armored Division and were honorable discharged. I think that about covers it except for one thing. You had to quit pitching due to some pretty bad health problems, such as having a total hip replacement in '78, the ball and stem replaced in '80, and finally, the socket replaced in 84. It's no wonder you gave up pitching. Do you think you'll ever return to competitive pitching?"
CURT DAY: "I don't know, but if my health permits it, yes."
So ends this article on Curt Day, a man who was one of the very best, one of our legends, one who belongs with the greatest pitchers of all time. So I'll put him where he should be—among them: Allen, Hohl, Isais, Day, Steinfeldt.