Curt Day:
Do you mean underneath and on the top?
Paul Day:
Yes.
Curt Day:
The thumb is on top and the little finger is underneath.
Paul Day:
Is it against the caulk of the shoe, the toe caulk?
Curt Day:
Pretty near, yes.
Paul Day:
But its underneath the shoe, its not wrapped around . . .

Curt Day: No, its underneath the shoe.
Paul Day:
Its just the very tip of the shoe, right on the edge of the shoe itself?
Curt Day:
The thumb is in the middle of the shoe and the little finger is in the middle of the shoe underneath and then the three fingers are spread a little bit. It's a finger tip grip.
Paul Day:
Okay, and then throwing the three quarter turn, you say you aim about 3 or 4 inches up on the stake.
Curt Day:
Approximately 4 inches.
Paul Day:
Up on the stake, you pick out a spot there and that's what you look at, that's what you are concentrating on until after you release the shoe and you may follow the flight of the shoe or whatever?
Curt Day:
Yeah, you can follow the flight of the shoe if you want to, but after you release the shoe.
Paul Day:
When did you start aiming at about 3 or 4 inches up on the stake, is that always where you aimed? I've always aimed at the top of the stake.
Curt Day:
I usually…I used to aim at the bottom and I kind of moved up from the bottom to 4 inches I'd say. I never did aim at the top of the stake.
Paul Day:
Well, timing the step with the swing and getting the rhythm is important. Okay, rhythm…developing a rhythm in the pitching…now, to get the rhythm, I guess it gets into "if you don't have the rhythm, how do you get it?"
Curt Day:
Well, you've got to strive to have a smooth step, and no jerky motion in your arm as you …in others words, everything's got to be kind of fluid motion, your step and your swing and your follow through is all…its got to be smooth and your follow through.
Paul Day:
Okay, let's say you're in a game or something, you miss maybe 4 out of 6 shoes or something and you're off your rhythm. Do you swing some extra times or it depends upon…
Curt Day:
Yeah, that's, I'd say it would probably be advisable to swing a few extra times…you've got to find something that you can get back on your rhythm and if it takes a few extra swings to do that, fine. Or maybe you step back and you tell yourself what you're doing wrong. You've got to be able to correct your mistake.
Paul Day:
Let's say concentration. What do you think about when you first go out on the court and you're starting to warm up? Okay, right before a tournament, let's say you go out on the court and you're starting to warm up. What would be kind of your routine?
Curt Day:
Well, the first thing, you check out if you got any sore muscles, if your arm is feeling okay and your legs are in good shape, then you try to concentrate on your distance and your open shoe and really the first few shoes you throw, you don't, you're not worrying about throwing a ringer too much, you check out your open shoe, your distance and your alignment. And then you also kind of check out if it comes easy for you and you know that after you toss 10 minutes or 15, you're going to tell if you're going to have to do some changing or whether you can just go on in your gradual procedure.
Paul Day:
Okay, let's say for instance that you've pitched for 15 minutes and you're not throwing the 80% ringers. It depends on what its doing, what kind of adjustments you make I guess, let's say your alignment is off, so you are throwing to the left?
Curt Day:
Well, if your alignments off, you're going to have to . . . you know your shoe, how you hold it and you're going to have to figure out whether your step is causing your alignment to be off, or maybe you may have to cock your shoe a little bit or you may have to move your shoe to the left or to right sites a little different to make it come in. And you have to make these little adjustments and that's what you do in practice whenever you're having a little trouble and you've got to kind of remember what you did in practice to get yourself back.
Paul Day:
Okay, is there something special like you did, say if you had trouble with your distance or something, you might not bring your shoe up as much or something along that line. Did you ever shorten your step?
Curt Day:
Well, usually you might shorten your step just a little bit if you want to throw your shoe a little higher or try to make it a little easier. Usually you don't change your step too much. You might raise your shoe when you start to pitch or you might lower it. You really get the distance by the swing.
Paul Day:
Okay, when you start a game after you've practiced, you've got yourself down to where you're throwin' pretty good. Do you, when you play your game, do you count ringers like "try to throw 8 out of 10 or 9 out of 10" all the time or do you do any counting while you're pitching? Some people do, I guess.
Curt Day:
Well, you try to pitch more ringers than the fella you're throwin' against. I think you try to kinda keep track of your shoes to see if you're throwin' 3 out of 4 or 4 out of 5.
Paul Day:
Rather than just pitch against like the score that you're leading.
Curt Day:
Well, when you get into that phase of it, I always try to pitch a ringer on every shoe, regardless of what my opponent was doin'. I feel like you try to get yourself throwin' ringers, if you're throwin' ringers, you want to keep throwin' ringers. Every shoe you pitch, you try to throw a ringer. If you don't, why then you kinda concentrate on what you did wrong and try to correct it on the next pitch.
Paul Day:
So in actuality, what you're trying to do is trying to pitch a ringer every time, not necessarily just trying to win the game?
Curt Day:
No, that's true, I mean you're tryin' to throw a ringer and if you do that, why you've got a good chance to win the game.
Paul Day:
Well, that's like if you look back in the record books, you look back on a lot of the tournaments you went to on the weekends that you averaged in the 80's and the next person might average in the low 70's or something. Some other pitchers who come to the world tournament say something like "We're only going to average maybe in the 70's, because I just pitch against people that way, if I was pitching against good competition, I'd be pitching higher with them too, but it only takes 70 some to win a tournament", so that's what some people have said.
Curt Day:
I never did feel that way, I always thought that you better pitch every ringer you can because with all your pitching innings your opponent might get hot and start throwing a lot of ringers and you may not be able to stay with him. I know in all my games, a lot of times, opponent wasn't doin' too well, but as long as he scored a point, why that's all I cared about. I didn't try to skunk anybody, I never did skunk anybody in a tournament game.
Paul Day:
But you would have if you were pitching a perfect game?
Curt Day:
In a world tournament or a big tournament game, I think I would have.
Paul Day:
Now, okay, you got up there, you've practiced, you've warmed up and you've got your kinks worked out, you're thowin' 85% or so in practice. Okay, you're walking with your opponent and you're tossing back and forth and he's pitchin' alright. You'll say to him, "I'm ready to go whenever you are or something", do you usually say that or do you wait for him to say when he's ready?
Curt Day:
Well, I used to do that. It got to the place where that I felt like go down and back two or three times, I say "down and back, do you want to go?" and I'd leave it up to him to make a decision, if he wanted to go down and back more than once, why, okay. I think a lot of pitchers want to go down and back too many times between games. I really don't think you go down and back twice on a new court if you just came off pitching a game, I think that's all that is necessary.
Paul Day:
So you pitch down, would you rather pitch for the mud or would you rather flip the shoe?
Curt Day:
Well, I think it's best…more sportsmanship involved if you flip a shoe.
Paul Day:
You flip the shoe, you shake hands, and you start to pitch. You've broken your rhythm whenever you stop and you flip a shoe. Normally when you start the game, do you take a few extra swings or something or do you take a little extra time after you've flipped that shoe or do you just go about normal?
Curt Day:
I think you try to be as relaxed as you can and throw a natural shoe. Hopefully maybe your opponent won the toss and you let him pitch first. I always felt like I'd just as soon pitch second as I would pitch first. Of course the guy who wins it usually goes ahead and pitches, so I think on that first pitch you don't want to get too ambitious. I think you want to kinda take it easy and try to settle yourself down and see if you can toss a couple of ringers to start with. It makes a good game out of it if you can.
Paul Day:
Basic, keeping relaxed, if it is an important game, if it's a tough opponent. Some people have a tendency to hang onto their shoe, especially in tense times, whether it be the first pitch or the middle of the game or late in the game. Is there anything specifically that you would do to keep from tightening up either a different breathing, any more swings or just kinda a relaxed set of mind you got.
Curt Day: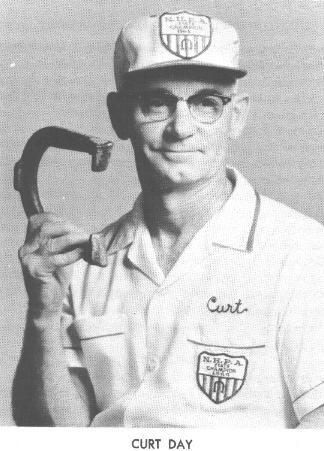 No, I think you want to be relaxed. I think you keep your mind on your own pitchin' and not worry about what your opponent does, except if he throws two on, why then you want to throw two on too. But you're gonna want to do that whether he throws any on at all or not. I never did worry about watching the opponent's shoe or seeing how it was workin'. I always try to keep my mind on my own shoe. I felt like that was a full time job. I never did have too much trouble tightening up where I hung on to the shoe too much. It's easy to tighten up, I mean usually if you tighten up your shoe, you stand a chance of going in maybe a little short or you might throw your shoe a little harder and have more of a chance to back off. So, it's just, whether it's the first pitch or the tenth or the twentieth, why I think you still want to do the same thing.
Paul Day:
Now when you're actually pitching, getting back to the concentration, I guess, what actually is going through your mind while you're pitching? Is the only thing that you're concentrating on when you're actually pitching a shoe is that looking at the stake, kinda having your mind go blank in a way as far as any other outside thoughts, just the co-ordination of that or are you in a way thinking "okay I've thrown eight in a row or I've just missed two or something along like that", do those thoughts enter your mind, as you pitch two?
Curt Day:
No, I think you forget what you did. Of course, if you're not throwin' ringers, you can't hardly forget that part of it. But you want to bounce back and start thowin' ringers and usually you try to correct what you've been doin' wrong, if you've been doin' anything wrong. If not, why you go ahead and do just what you've been doing. While your opponent's pitching, while you're standing there kinda relaxed and thinking about your grip and trying to just keep the rhythm that you have and keep your shoe goin' in there like you want it to. In other words, you're just keeping your mind on your own horseshoe. If you think about the ringers you're thowin', its just kinda a glancing thought, you don't dwell on it at all and you let that go and your percentage will take care of itself if you throw ringers. You try to be alert to see that the score is right and just kinda keep your mind on your pitching, trying to keep relaxed and throwin' ringers. If they're coming easy for you, why that's good, you just gotta try to stay in a mood to keep em' comin' that way.
Paul Day:
In some tournaments for qualifying. Is there anything in particular as far as qualifying, that you do differently or anything else we've discussed?
Curt Day:
I think in qualifying, its "concentrating". I always had the theory that really pitching a good horseshoe game is the same as good qualifying. All you're doing in qualifying, you don't have to worry about any other shoes being on the stake but your own. So, therefore, you're just concentrating on throwin' ringers. And whatever you have to do to keep that rhythm, that's what you dwell on. I think it's helped me in a lot of horseshoe games that it's just the same as I feel like I'm out there and maybe by myself thowin' ringers and my opponents just walking back and forth with me. I don't let his pitchin' interfere with mine. So qualifying and pitching a good game of horseshoes is just about the same. You can't always, maybe you can't always do that, but then it's nice if you can.
Paul Day:
Next question, gets back to "you stand on the right hand side of the stake and throw cross-fire across your body to the stake at the other end with your three quarter reverse turn." Have you ever pitched in tournaments where you stood on the left hand side of the stake…or did you always mostly stand on the right?
Curt Day: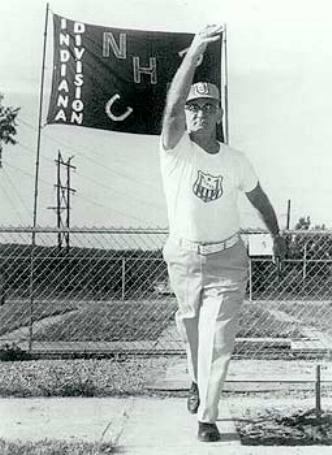 I don't know as if I ever pitched in a tournament. I've pitched in league games and so forth. It seemed like standing on the left side, the shoe went in more perfect with more of a chance your ringer would bounce off. On the right side, I dwelled on pitching where I could hook the stake and keep the shoe on. And then I used to pitch a pretty low and hard shoe and I stood back as far as I could on the walkway and still it just seemed to come, I worked on it and it seemed to come more natural for me and there are more fellows pitching on the left side than the right. I like that part too.
Paul Day:
Next question relates to your release of the horseshoe from your hand. When you start off, you have your shoe a certain way. Now, when it comes through your body, when you bring it down is it kept flat, your hand flat or is it turned so the shoe is tucked in straight along your body, is it flat in your back swing, how is it delivered. Does it come off the end of your finger, which one does it come off first?
Curt Day:
Well, I don't know if I can answer that correctly or not. I don't turn my shoe; I grip it, sight the stake and I bring it down, in my back swing I turn my shoe a little bit in my back swing and my arm comes straight through by my leg and it slides off my fingers. It kinda slides off the end of my fingers at the same time, it kinda leaves my hand.
Paul Day:
Is it more off your index finger, your middle finger more than your little finger or just off all at the same time?
Curt Day:
The same time.
Paul Day:
Now, do you try to have your hand come through from where your side is, does your hand come straight up to where the stake is when you follow through?
Curt Day:
I'm lined up, I pitch toward the stake, … true. It kinda slides off my fingers. In fact, I think you could probably hear it slide off my fingers as I release it. That's the reason, I never want a burr on my shoe, because it interferes with sliding off your hand.
Paul Day:
You've always pitched dead soft, do you like dead soft shoes , are harder points better, medium soft?
Curt Day:
I went to the dead soft, I didn't start out with dead soft. With the dead soft maybe with the belief that my turn and all that maybe a shoe would be deader on the stake and I would maybe save a ringer or two a game and it could mean the game. That's the reason I went to the dead soft. I like to practice with medium soft, where the shoes would last a little bit longer.
Paul Day:
What was the best percentage game that you ever pitched?
Curt Day:
Well, I suppose the best percentage game was 35 out of 36 ringers.
Paul Day:
When was that, do you know?
Curt Day:
I think it was around 1963 against Carl Atwell. I think that was about a 97% game.
Paul Day:
What was your highest tournament?
Curt Day:
I had a tournament at Wabash which was 88%, I don't know, you might have to check the records on the state, it seems like I….
Paul Day:
It says 88.8 in 1969, Indiana State champ at Kokomo.
Curt Day:
I was thinking I had a state tourney that was 88.8. I guess that was my best tourney.
Paul Day:
And your highest World was 86.6 out in Utah, in '66 right when you won it out there for the first time.
Curt Day:
Yeah, it was around 86%.
Paul Day:
What year was the first tournament that you pitched in?
Curt Day:
'48, I guess in the local tourney here in Dorner Park.
Paul Day:
What did you average "percent wise" back then?
Curt Day:
Well, I guess really it started out at that time, I guess I was probably in the high 60's.
Paul Day:
Then how did you progress through the years?
Curt Day:
Well, of course, workin' at it, and competition, gaining confidence, and practice. I think mainly playing in tourneys, in practice working on the shoe, trying to be as good as the best pitcher you pitched against. To help the percentage, I think you've got to play against somebody as good as you, better to play against somebody maybe a little better. It gives you something to work for to better your game and maybe you can slip in there and beat him if you get a little better. I was always fortunate here in Clinton County because we had a lot of good pitchers. Ed Sharp for one, probably about as good a horseshoe pitcher around. We always had some real good games. And we were always pretty even in percentage.
Paul Day:
So, did you practice when you played the tournaments, back in the 50's, you played quite a few tourneys in the summer?
Curt Day:
Yeah, I usually hit . . . , of course back in the 50's there, we didn't have too many tournaments, we had a league play which was about the same as a tournament. We had seven man team where you played singles and we played as a team, it was about the same way as a tournament, we were building up interest, so we played against a team. Then later on why of course we had the state tourney, that was one of the bigger tourneys, then they started the Midwest tourney and had the Indiana-Ohio. Then later on, years later, or a few years later, they started having tournaments on the weekends and kinda did away with the league play. I think league play developed a lot of interest here, especially in Indiana.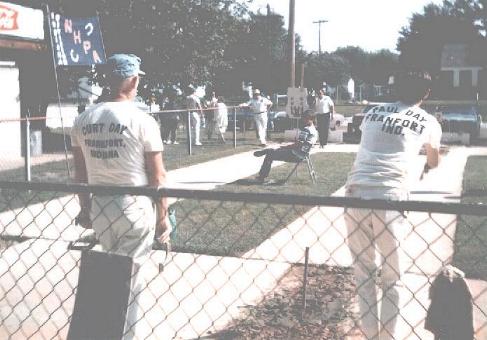 Day versus Day
Email the website editor Kenny Wolf

Email address must be typed in to email me.
This email address is a jpeg image to avoid Internet spam email search programs.
*** NEW ***
The Horseshoe Pitching Career
and Tournament Results of Curt Day
Frankfort, Indiana
*** NEW ***

The Theory of the Physics and Mathematics of Horseshoe Pitching
The physics of the turning shoe and the mathematics of the alignment
How to pitch horseshoes with nearly a 100% ringer average . . . in your mind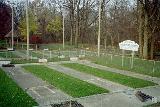 pictures of the Curt Day Horseshoe Courts