| | |
| --- | --- |
| Carol Kingery Hamilton | |
View pictures of the Going Away Party for Carol
Carol would not have this page on this Website if she was editing it. (At least not the way it has been written up, with her name and picture at the top.) But she is not editing it! This is my way of thanking Carol on behalf of the entire Frankfort Class of '72 and recognizing all her hours of work staying in touch with the classmates who wanted to stay connected with the class through the reunions. The video she put together for our class was priceless and will always be a keepsake for those who purchased it.
For the first 10 year Reunion, we have Kathy Hedge Skinner, Joyce Lemke Trent, Pam McKinney Robertson and Denise Pogue Wolf to thank. (If I have omitted anyone, please bring it to my attention, as all the workers deserve credit for their time and work.)
The 20th Reunion was organized by Carol Kingery Hamilton, Pam McKinney Robertson, Carol Pattee Randel, and Denise Pogue Wolf. Although I don't remember for sure, knowing Joyce Trent, I'm sure she was involved with helping. (Again, I don't mean to leave anyone out, I'm just trying to give everyone credit for helping.)
Carol Hamilton made the 25th Reunion possible with a little help of some of the workers from the other reunions. All of these girls deserve our gratitude for investing many hours of their time into seeing that we enjoyed a few days and evenings together. Carol's work on address lists and mailings has literally kept us together over the years.
We recognized Carol's valuable service at the 25th Reunion with a THANK YOU banner that was signed by those in attendance and given to Carol at the end of the evening at the American Legion.
FROM THE FRANKFORT CLASS OF '72 --
"THANKS CAROL
AND THANKS TO ALL THE REST
FOR CARING ENOUGH TO MAKE IT HAPPEN."

Going Away Party for Carol Hamilton
Saturday, March 13, 2004
Pictures of the Event
(Dania Ann Fairburn Remaly was there as well
but missed getting in the pictures)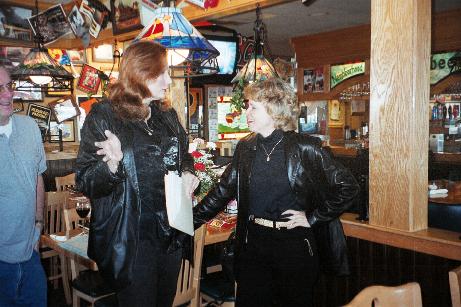 Richelle & Carol


Pam, Carol, Jenny, Cherie & Judy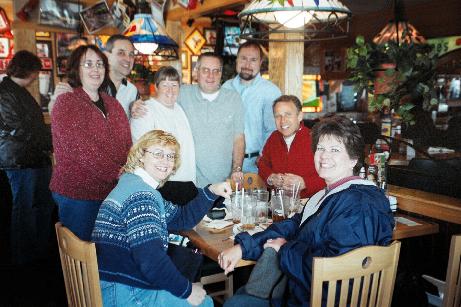 Joyce with husband Gary, Denise with husband Kenny, Marc, Steve, Carol & Joyce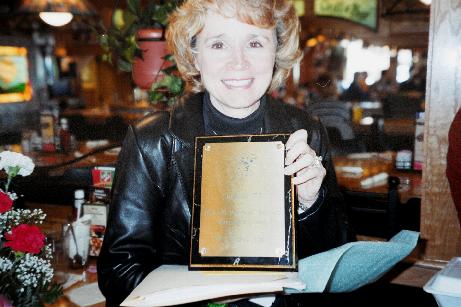 Carol displaying the class of '72 plaque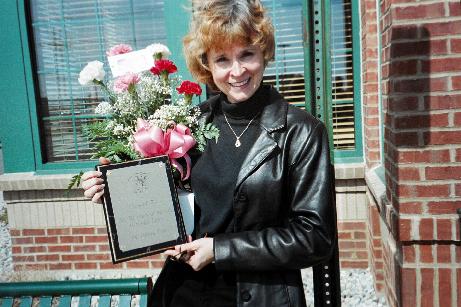 Carol outside with flowers and plaque


"Frankfort Hot Dog Class of '72 For 30 years of Service through Love. We Thank You"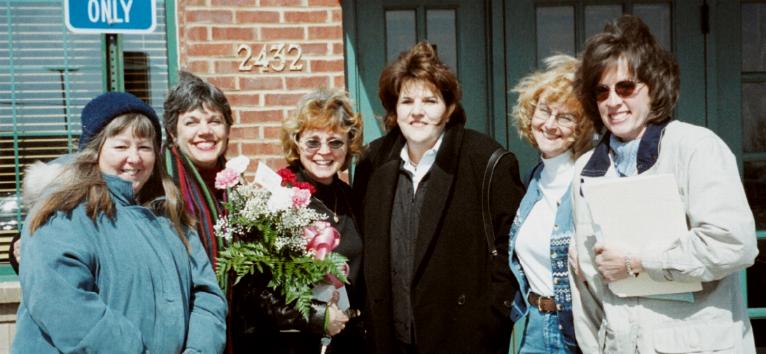 Denise, Diana, Carol, Jenny, Carol, & Cherie
Thanks to Diana for bringing the camera and taking the pictures
...EXCEPT FOR TAKING THIS ONE
WHICH WAS MY PLEASURE GETTING ALL SMILES!
A Note from Carol to the whole class of 1972
Hey Richelle,
I am sending this to you since you have a list to send to all in the class, so please forward this to the entire class. I still cannot believe all the kindness and love from the class of 72. I was so got that these people took time out of their day for me, and all the fabulous emails too. I know you and Cherie did a lot of this so a big thank you to you. Can you believe Cherie will fly in just to surprise me, and boy was I!!!!
When I worked on the reunions for 20, 25 and 30 I had a lot of great help and that made it so much easier. Also, it was a real labor of love. To hear from classmates you have not heard from for so long made all of it worthwhile. As I told you, Kevin and I did a lot of it together so that was nice for us too!!
Again, thanks to the class of 72. I always knew we were a "kick ass" class and this weekend proved it. Take care and my best to all. I will send you my new email when we get moved.
Love to all
Carol D. Hamilton
Drop your web page comments
to Kenny Wolf


If you live in the Frankfort area,
sign up today with ACCS and get started on the Internet



Advanced Computer and Communication Systems, Inc.

---
Return to Class of '72 home page
Class of 1972 Site
* 30th Class Reunion Page * In Remembrance * Class Reunion Pictures *
* Graduation & Senior Pictures * Miscellaneous Senior High Pictures *
* Junior High School Falcons Pictures* Grade School Class Group Pictures *
* Where in the World is the Class of '72 Now? * Get your pictures on this site *
* Words from the Website Editor * Registering on the Internet *
---
Notify other classmates, whom you are in contact with,
that this information is up on this page.
This site can also be found by using
yahoo.com, google.com, lycos.com,
altavista.com or some other major
search engines by typing in:
frankfort class 1972