Frankfort Class of 1972

40th Class Reunion
July 27 & 28, 2012 Weekend
40th Reunion Page is UP AND RUNNING
Gary Woodruff has given us the group picture which is posted below
39 other pictures of this gala event are linked near the bottom of this page.
Don't miss Gary's picture of the Karla Gorman Memorial display of our classmates who have passed on.
If you have pictures, please email them to me as JPG images if possible. Due to the size of pictures (I only have dial up at home), please send them between 7am to 4pm on Monday through Thursday. You may also send them after 10pm, Sunday night through Wednesday night and I will receive them at the office in the morning with my high speed internet connection. We would love to have copies of all the pictures that were taken at the 40th reunion. You may have taken some classmates who hid from Gary's camera.


The 40th reunion drew about 76 classmates and we all seemed to have a good time. We wish some of you who could not make it had been there.
On a sad note, Jerry Howe passed away Monday, August 6, 2012.
He was hoping to attend the 40th Reunion event when he came down with a high fever from his fight with cancer and was not able to attend. The obituary is posted on the remembrance page.
Classmates attending 40th Reunion
P = at Pepes only Friday night M = at Moose only Saturday night
(Let me know if you were there and I missed you or speeeled your name incorrectly)





Jeri Anderson


Janet Applegate

P




Richard Badger


Cherie Baer

M




Wanda Toney Blackburn




Steve Blickenstaff




Deborah Brammel




Joyce Brooks


Steve Cambridge

M




Cheryl Clark


Tom Click

M


Eldo Clendenning

M


Cathy Cooper

M




Paul Creasy




Judy Crum


Paul DeLaCroix

M


Diane Denniston

P




Richelle Dixon


Mary Emans

M




Phil Evans




Jerra Ferguson


Sarah Spray Fisher

P




Terry Flood




Mike Frye




Cindy Galeener

Bob Goar




Karla Gorman




Danny Griffis




Carolyn Grinstead




Herb Helm




Lora Henry


Jane Hizer

M




Marc Hodges




Jim Holliger




Joyce Houchens




Dan Howard


Larry Howe

M


Marilee Howe

M




Dixie Huffer




Steve Keeney




Jane Ann Kenslow


Bruce Kirby

M


Joyce Lemke

M


Linda Lipp

M


Carole Lorris

M


Owen Lovejoy

M


Dawn Massey

M




Kayla McKinney


Pam McKinney
Harry Metzger

P

Janet Meyers


Becky Mills

M




Marshall Miner




Rita Peper




Denise Pogue




Paula Pope




Joe Ray




John Rice




Bill Ross


Jenny Slipher

M




Steve Smith




Theresa Snyder


Kris Steiner

P




Dan Stokes




Joyce Taylor


Janet Tucker
Marty Watkins

M




Vickie Wells




Carla Wetzel




Laurie Wills




Roger Wills




Raymond Winters




Kenny Wolf




Gary Woodruff


Cynthia Young
Pat Warren (by visual phone)

M
Gary Woodruff was good enough to take our group pictures and some other pictures that are linked below. The lighting was not up to a photograper's desire, but I think Gary did a very good job with the evironment he was given and we all owe him a BIG THANK YOU for taking time out from his enjoyment of the gathering to give us some pictures capturing the moments of our 40th class reunion.
Frankfort Indiana Class of 1972
40th Reunion Group Picture at the Moose Lodge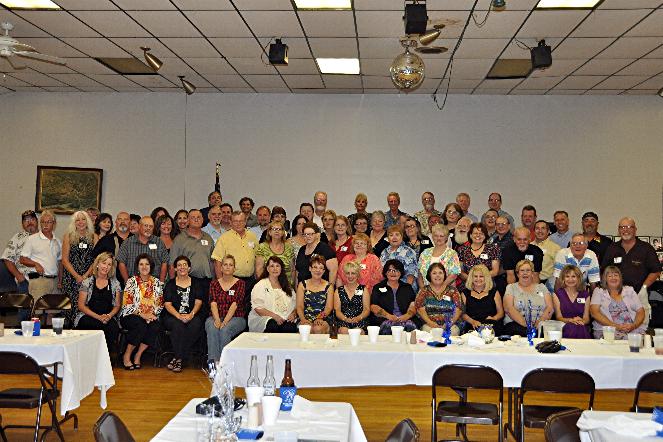 Click on this link or the picture above to bring up the full resolution group picture with a 4 X 6 ratio for printing


The above pictures, in their larger image, are half the size of the full resolution 4 X 6 group picture above them, shown here for viewing on your computer screen.


Click on this link or the picture above if you would like to bring up the ceiling/tables cropped out picture that Gary edited.
The 39 cropped pictures from the Woodruff collection
(please take the time to send us your pictures)
Marc Hodges and his associates at ACCS make this web site possible!

After clicking on picture links above,
use BACK key to get back to this page
Size and Resolution of the above Pictures
Gary's professional camera took very high resolution pictures, while I cropped many and reduced the over all size of most of the pictures for this web site (to 30% or 40% of original size in most cases) for viewing purposes only. As with some of the pictures I have put up in the past, there will be some with their 144" T.V. screens, hooked into their computers, who will wish that I had put up the full resolution of nearly 200 MB of pictures from Gary's originals that I have in my computer. (Some may even have old drive in movie screens that they purchased for a song and wish they could show them outdoors to their neighbors).
It ended up that I put up about 49 pictures, including the full size of the class group pictures and the full size memorial display picture and still used up nearly 9 MB of additional memory on the web site. 77% of my web site memory is used for class files for the class of 1972. Only 23% of my web site has my letters to the editor and my section on the horseshoe pitching career of Curt Day and the courts named after him.
I hope everyone understands that I have had to make decisions to keep the presentation of this web site somewhat lean. I guess we are fortunate that the president of my web site service provider was also the president of our class. Thanks to Marc Hodges for his hosting of the Frankfort Class of 1972 web site. I hope everyone enjoys the trip down memory lane. And thank you to those who have expressed their appreciation of my efforts to establish and keep this web site active.

Advanced Computer and Communication Systems, Inc.


Just a little Note to you ALL thanking you for the wonderful turnout of our 40th Class Reunion.
All the phonecalls and the Facebook in the world could have not done ANY good had YOU the Classmates decided to send in your money and come to these two fantastic nights of re-visiting our past and reconnecting FOR our Futures! As I said in my little letter to you ALL. You are ALL special to me, and I count it an Honor to be your Host for each and every Reunion!
See you ALL in 5 Years!!
Richelle!
40th Class Reunion

July 27 & 28, 2012
OFFICIAL NOTICE 40TH CLASS REUNION
OF FRANKFORT HOTDOGS 1972
--information received from Richelle Lutz
July 27, 2012
Meet and Greet Pepes Mexican Restaurant 7:00pm - ?
July 28, 2012
Invitation Only Dinner Moose Lodge Cash Bar
Cocktails 5p.m.
Dinner 6 p.m.
Cost will be $20 per person; Please send your "cash or money order" to:
Joyce Boling
3516 Franklin Drive
Auburn, In. 46706

FOR YOU GOLFERS
(posted by Joyce Brooks Boling on June 11th)

I have made arrangements for some people to golf on Saturday morning before the reunion at the Country club there in Frankfort.
If anybody or spouses with our class would like to golf, have them please contact me. At this time there is room for eight more people and we could probably add more if there is an interest. The cost is $35.00.
If you WOULD have graduated with the class of 72, DID graduate with the Class of 72, or of course your significant other, you are thoroughly welcome. It is the consensus of the committee of this reunion to keep the Dinner Intimate and "only" for our classmates. After you send your monies to Joyce you will receive an invitation in the mail to present the night of the Dinner. We just wanted to make this night a bit more special. Entertainment will be a D.J playing all 60's and 70's. AS NO ONE knows EVERYONE'S emails. Please pass the word!
Thank you,
Richelle Lutz

If you live in the Frankfort area,
sign up today with ACCS and get started on the Internet

Advanced Computer and Communication Systems, Inc.
---
Return to Class of '72 home page
Class of 1972 Site
*35th Class Reunion Page * 30th Class Reunion page *
* In Remembrance * Class Reunion Pictures *
* Graduation & Senior Pictures * Miscellaneous Senior High Pictures *
* Junior High School Falcons Pictures* Grade School Class Group Pictures *
* Get your pictures on this site * * Words from the Website Editor *

---
Notify other classmates, whom you are in contact with,
that this information is up on this page.
The address of this Class of '72 page is
http://www.accs.net/users/wolf/72class.htm
This address can be copied and pasted
in your E-mails to other classmates.
The easiest way to get here and to
tell others how to get here is to go to:
kennywolf.accs.net
and follow the link to the Class of 1972
This site can also be found by using
yahoo.com, google.com, lycos.com,
altavista.com or some other major
search engines by typing in:
frankfort class 1972